Admin is Steven S Jones
For Members
All UTS Profit Ads members can get paid to view advertisements! As a member you'll get paid for each click that you generate by browsing our sponsor's ads, plus all members can earn huge referral bonuses.
Pro-members can also earn 150% on each $20 Ad Pack that they purchase from our powerful Profit-Share system. Great marketing that truly pays!
For Advertisers
UTS Profit Ads offer competitively priced advertisement packs for your online campaigns. Promote your business or affiliate link with us and receive text ads, banner ad impressions and link ads per ad package purchased.
All paid UTS Profit Ads member link ad clicks are 24hr unique and guaranteed.



UTS Profit Ads shares 100% of funds received per Ad Pack sale with all UTS Profit Ads members who own Ad Packs. Ad Packs sales are shared 18% for referral bonuses, 28% for Link Ad earnings and 54% split between a random group of Ad Pack positions.
Members can receive multiple payments per account depend upon the amount of UTS Profit Ads Ad Packs that they have purchased.
Members can purchase more Ad Packs with earnings received from Profit-Share or any other commissionable element within UTS Profit Ads. UTS Profit Ads does not guarantee how quickly members receive profit-share as it is depend upon how many Ad Packs are purchased in any given day
150% Total Return From Each $20 Ad Pack
Paid To Click Link Ads
All UTS Profit Ads members can earn just by clicking on Link Ads in our members area. We verify many Link Ads daily and all of UTS Profit Ads members can earn a great return just by logging in daily to click our Link Ads.
UTS Profit Ads Advertisers benefit great from these Link Ads, as they are clickable only once per member every 24hrs, giving UTS Profit Ads Advertisers 24hr unique, guaranteed hits to their website.
Profit-Share
With each Ad Pack purchase, UTS Profit Ads member will receive a share of our profits from all ad pack purchases and ad sales.
Each $20 Ad Pack is capped to pay out a maximum of $30. These are automatic, passive profits, with no sponsoring needed to earn!
UTS Profit Ads Members can also compound their earnings by purchasing more Ad Packs with their profits, growing their returns hugely!
Referral/Sponsor Bonuses
UTS Profit Ads Members will also earn a percentage of every ad pack that their own personal referrals purchase down a massive 3 levels.
Level 1 (Direct Referrals): 10%
Level 2 (Indirect Referrals): 5%
Level 3 (Indirect Referrals): 3%
Minimum Withdraw $10 for free member $5 For Pro Member
Payza And SolidTrustPay Supported
Recent Payment Proofs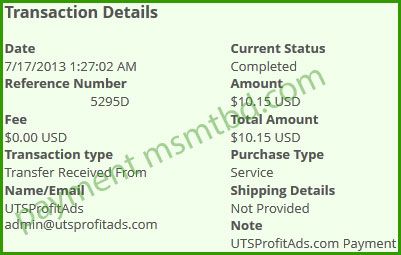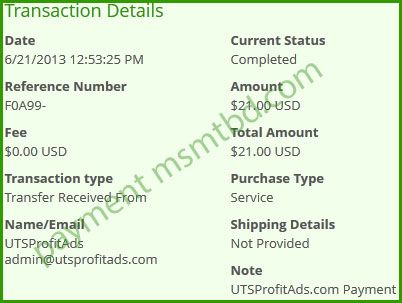 178 total views, 3 views today